What with all the various blogging about the latest Christian assaults upon our popular culture, such as
BibleLand
(as blogged by Tbogg) and the brain crushing
Creation Museum
(as blogged by Whiskey Fire), I've found myself remembering what was the most hilarious Christian Themed Family Fun Time thingy I had ever seen:
Golgotha Fun Park.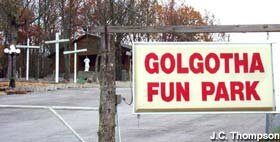 As the good people at the PopCulture Blog
YesButNotButYes
put it:
"What better says family fun than an attraction that translates to "Hill of Skulls" in the original Aramaic?"
It's not just the the incredibly inappropriate name for a Mini-Golf(which apparently had go carts and paint ball attractions as well), it's the complete and utter creative laziness that punctuated the owners attempt at bringing their theme to life(click to enlarge, you gotta see it to believe it):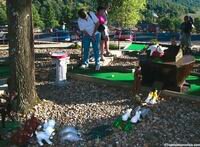 Yep. Lawn Ornaments. They used lawn ornaments for their animal pairs in the Noah's Ark hole.
Your whole mini golfing experience at Golgotha Fun Park took you from the Old Testament all the way to the New Testament, with the final hole being Christ's Crucifixition. Remember–he died for your sins just so you could get that hole in one. Don't forget to visit the gift store on your way out!

Posted by Maryc on Sunday, June 10th, 2007 at 7:34 pm.

16 Responses to "Mini Golfing For God!"